Virtual and free HR Tech conference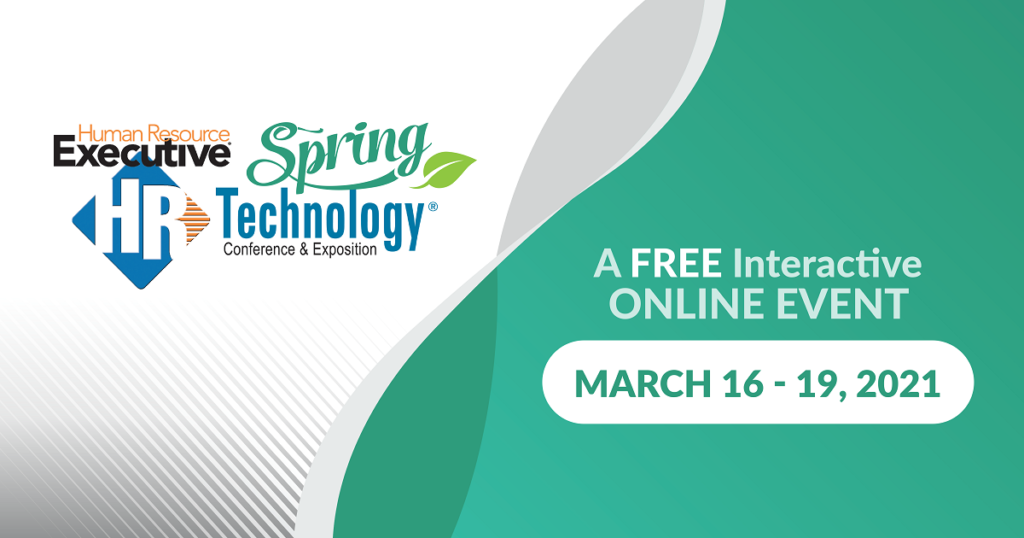 HR Tech is committed to ensuring the HR community has avenues to see how technology can assist them during these unprecedented times while also providing expert guidance to help teams cope with the now and what lies ahead. HR Tech is excited to host its second virtual event in March 2021 — and admission remains FREE for HR and IT professionals!
HR Tech is renowned for hosting the world's largest HR tech marketplace! You'll still be able to explore thousands of products from hundreds of vendors — ranging from established market leaders to HR startups — but in a state-of-the-art virtual setting. There is no better way to see the full capabilities of HR technology as you research and compare products side-by-side with real-time answers from the vendors!
The HR Tech Conference has the unique advantage of being curated by long-time industry veterans, knowledgeable program chairs and the expert staff at the premier publication focused on strategic issues in HR since 1987, Human Resource Executive® magazine.
Steve Boese, Conference Chair, Inside HR Tech Columnist, Human Resource Executive®; Host, HR Happy Hour Show
Jeanne Achille, Women in HR Technology Chair, HR Technology Expert;
Founder & CEO, The Devon Group
Timothy D. Burke, Senior Vice President, Publisher-HR Products, LRP Media Group
Elizabeth Clarke, Executive Editor, Human Resource Executive®
Bill Kutik, Conference Chair Emeritus, Technology Columnist, 
Human Resource Executive®; Host, Firing Line with Bill Kutik®
Here's a quick look at some of the keynotes. For more information, visit HRTechConference.com.
In the opening keynote at 11 a.m. March 16, Bersin, global analyst and dean of the Josh Bersin Academy, will discuss HR technology to expect in the coming year and how it can bring about critical workplace changes.
Later, at 4:45 p.m., talent acquisition expert Jackye Clayton will discuss why and what type of new tactics and strategies are required to make diversity recruiting successful in 2021.
On March 17, Brooks, CEO of consulting firm Logical Design Solutions, will start the day at 11 a.m. by addressing how organizations need to adjust their culture, leadership models and other strategies to build resilience for the future.
Also featured that day is a panel discussion of HR leaders, moderated by industry analyst John Sumser, on the topic of demands and changes facing CHROs right now using the results of Human Resource Executive®'s annual "What Keeps HR Up at Night" survey as a starting point. That will be at 3 p.m.
At 11 a.m. March 18, Katy Tynan, a principal analyst for Forrester, will talk about the importance of and ways to invest in the leaders who truly are at the front of an organization's transformation. (Hint, they aren't all Zoom-ing from the C-suite.)
That afternoon at 4:45 p.m., Jason Averbook, author and consultant, will talk about "Changing Work for Good: A Whole Person Approach to Digital Transformation."
Torin Ellis will discuss inclusion and workplace culture during his keynote address at Spring HR Tech, a virtual and free event in March.
And diversity strategist, author and practitioner Torin Ellis will give the closing keynote at 11 a.m. March 19 on permanent changes needed to reframe the conversation around inclusion and workplace culture.
Also on Friday, in a nod to emerging solutions, Steve Boese, chair of the fall HR Technology Conference & Exposition®, will showcase six start-ups in an HR Technology Pitchfest Preview, a rapid-fire session that will provide a peek at some of the newest HR tech available. That session starts at 2 p.m.
Those sessions and dozens more will give attendees a head start with the rapid pace of change happening in HR, says Rebecca McKenna, vice president of global events and publisher of Human Resource Executive®.
Source: hrexecutive.com